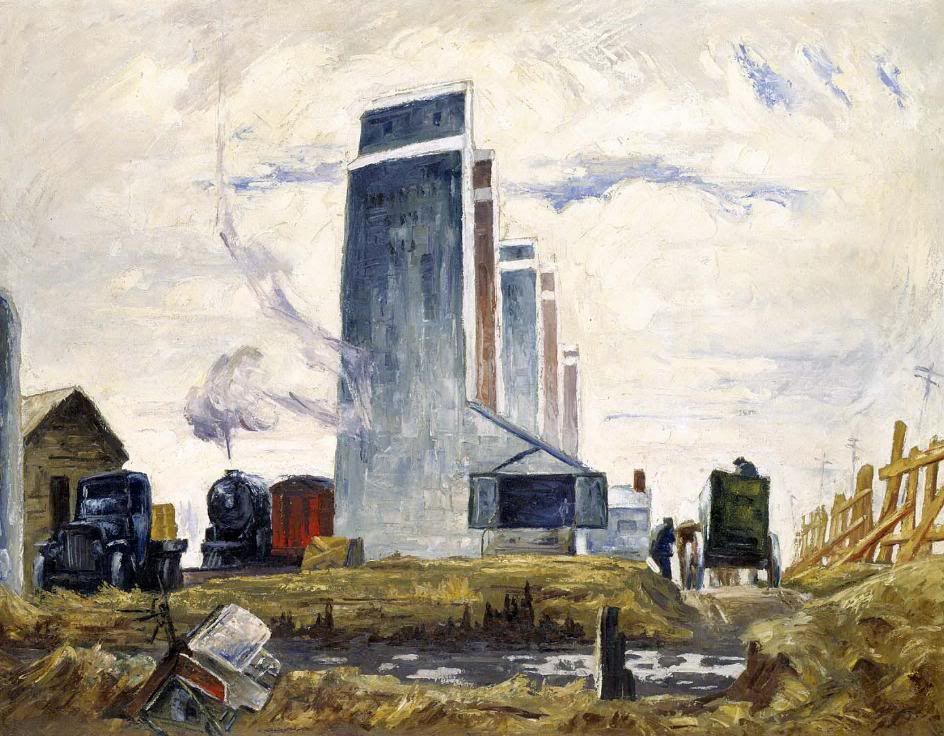 Row of Elevators ca. 1928-1929 Clyfford Still

Clyfford Still painted Row of Elevators early in his career, and the scene probably shows a view near his family's farm in Alberta, Canada. The image suggests optimism at first, because the towering grain elevators, steam train, and tractor emphasize man's ability to work the land. But the abandoned machinery, subdued colors, and bleak vegetation evoke the underlying hardships faced by many farmers in order to survive.
With any kinda luck, this is how I hope to spend the day after Thanksgiving . . . visiting the newly opened Clyfford Still Museum in Denver.
Denver was triumphantly selected as the chosen location out of twenty cities for the Clyfford Still Museum which has just opened this month of November 2011. Born in North Dakota (1904 – 1980), Still began by
drawing and painting American rural landscapes which included trains and wheat fields. Some have described the theme of all of his works as man's attempt to survive in an unforgiving environment.





1937


Still's family moved to Washington State and also had a wheat farm in Alberta, Canada, giving him a strong prairie influence to his paintings. In an interview, Still described vivid memories of "arms bloodied to the elbows from shucking wheat" and "man and machine ripping a meager living from the thin top soil." He taught art at Pullman, Washington, and later at what is now the San Francisco Art Institute.





A rare early painting by Clyfford Still '35 of the Grand Coulee Dam under construction surfaced this winter on an episode of Antiques Road Show.
Photo courtesy PBS.



His work progressed from regionalism to surrealism to abstract expressionism, which he is best known for, and eventually he joined the ranks of Rothko, de Kooning, Stella, and Pollock in NYC. The Denver museum will house 94% of Still's life's works. The following video is from the new documentary created by Colorado Public Television about Clyfford Still's life as an artist.





Recommended: