We are expecting our first freeze three days from now, so I harvested all of the peppers and tomatillos from our garden today, along with some chard, onions, and small tomatoes for the day's pasta. We have far more jalapeno peppers than we need, so this year I will dry most of them and grind them into a powder for use in cooking. (see recipe below)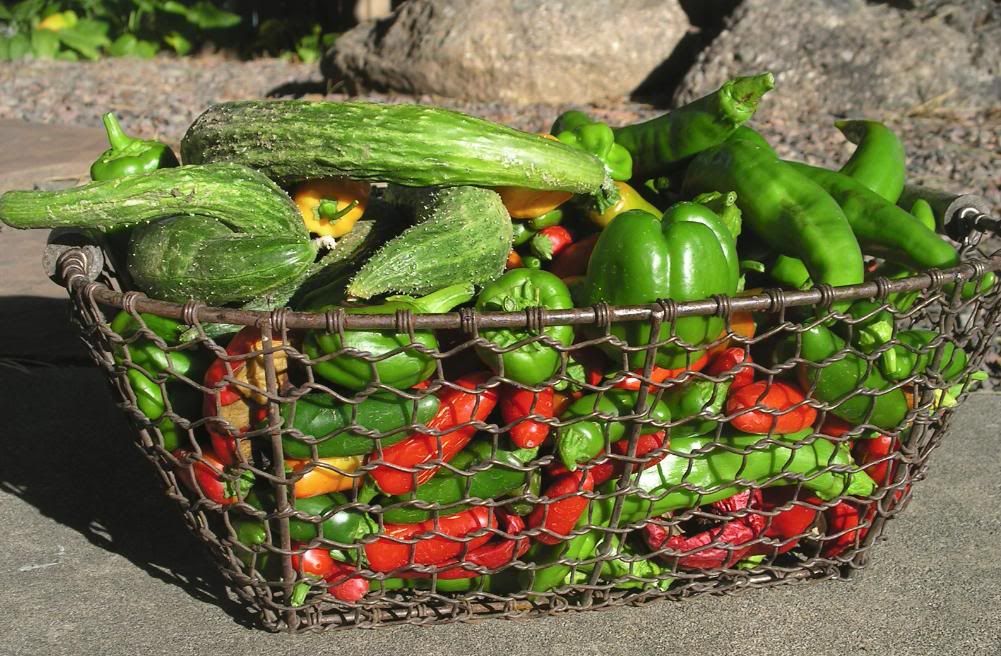 Picked today: This large basket is filled with many jalapeno and other peppers. There are just a few cukes thrown on top.


Our favorite things (some planted for the 1st time) from this years garden were:

A very small, sweet yellow/gold tomato. (sorry, don't know its name)
Lemon grass (cut and used in stir fry, dried for seasoning this winter. My son makes home brew and wants to try it in a batch.)
English cucumbers.
Mint - I finally took off using my mint this year after many years of ignoring it. Especially loved it in morning smoothies,

green

smoothies, if you will. Equally wonderful was a couscous recipe which used mint as the herb. (see recipe below)

Tomatillos. This was our first year ever to try growing them as I knew they'd do well in this climate. They were fun to grow and we loved the tomatillo salsa that I made.
Sweet meat squash, the "purple" pumpkin which is popping up in stores now, too.
Swan melons. These heritage seeds were from our local seed saving organic Abbondanza farm.
We also grew lots of green beans, broccoli, onions, eggplant, and winter squashes and other herbs.

We started a raspberry bed and a Mara des bois strawberry patch this year.



Also picked today: cherry and pear tomatoes, tomatillos, swan melon, acorn squash.







__________________________



Here's a recipe I love which uses dried peppers:

HOMEMADE CAJUN SEASONING
2 T chili powder
1 T sea salt
1 T black pepper
1 T white pepper
1 T oregano
1 T thyme
1 T basil
1 T sugar
2 T cayenne pepper
2 T paprika
2 T garlic powder
2 T onion powder

1. Shake together and store in a tightly covered glass jar. NOTE: I pulverize my dried Jalepenos in a blender and then use them in this recipe. Use 1-2 Tbsp in cornbread!



__________________________



This recipe was a new discovery this year which was an absolute favorite:

SUMMER GARDEN COUSCOUS RECIPE
Prepare one pkg. or about 2 cups of couscous.
Add: chopped mint leaves, almonds, cherry tomato halves, radish slices, white raisins, sliced scallions, olive oil, sea salt and pepper.


__________________________



There is much left to pick. Just didn't want to leave it all to the last minute... If you'd like to share anything about your gardening year, please feel welcome to leave a comment!


——Kay McDonald