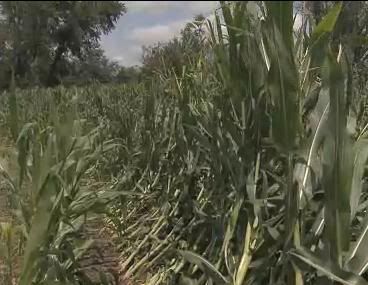 I spoke to my family yesterday and they "cannot believe the high USDA corn numbers" because they are seeing a lot of
derecho wind
damage to corn in their area in Northeastern Nebraska. You recall that most of the national news reports of wind damage were from Iowa. The wind causing the damage reported by my family in Nebraska was from the
same
storm on July 11th.
There is a lot of green snap on my own family farm, and conditions there have been on the dry side all season. Since Iowa had wetter conditions in some areas, the winds caused root-lodge instead of green snap, in which case the corn may prove more resilient to the storm's damage.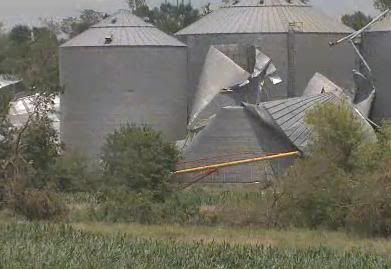 The storm also caused a great deal of grain bin damage, not so resilient.

From seeing the reports of wind damage from such a wide variety of spots in the Midwest, it would seem this damage could be quite significant, however, Market to Market reported on Friday that "Early damage estimates ran into the hundreds of thousands of acres, but current estimates amount to only about 10 percent of that amount."

According to KFGO, near Dysart, Iowa, "There is a 10-mile-wide swath here where the corn is flat; the beans are OK. Buildings are gone -- grain bins and machine sheds were obliterated. Elevators lost bins and their grain legs are done. It tipped over Harvestores, pulling the concrete right out of the ground. We were on the edge of the 1998 windstorm, but this is worse than that one was. I've never witnessed such destruction."

Of course, this followed the major flooding damage to the region, also destroying much corn acreage, giving Eastern Nebraskans a legitimate case for pessimism. Today, the U.S. Department of Agriculture has designated almost 40 Nebraska counties as disaster areas as a result of widespread flooding along the Missouri River and its tributaries this year. In addition, six counties in Iowa, six in South Dakota, three in Kansas and two in Missouri were designated as disaster areas.

On a positive note, another family member reports that corn looks excellent the entire distance in a drive from Denver to Lincoln, Nebraska yesterday. (That would be the Ogallala aquifer irrigated corn report.)

However, West and Central Nebraska are also reporting a great deal of crop damage which is storm related in this Kearney Hub news report released yesterday. "...have seen storm after storm batter, bruise and break crops, destroy farm buildings, uproot trees, and flip pivot irrigation equipment. You're talking millions and millions in damage."

Current fears are due to high day and night time temperatures reducing pollination, happening right now in many states. Last week, the DesMoines Register reported that "Agronomists and meteorologists agree that 86 degrees is the best condition for corn reproduction. Instead, the tassels and kernels will get temperatures averaging 95 degrees or more."

Today, Bloomberg reports 105 degrees in "parts of Indiana, Illinois, Missouri and Kentucky" and that "Corn crop yields may be reduced in Iowa, Illinois, Missouri and Kansas amid high temperatures and low rainfall."

Please leave a comment about the crop and weather conditions you are seeing in your neck of the woods.


KM



To read more on the wind storm's damage and interpretation I recommend Stu Ellis.