In a recently released July report from the Federal Reserve Bank of Kansas City, I've excerpted portions indicating a quarterly decline in agricultural lending conditions based on bank statistics from Colorado, Kansas, Nebraska, Oklahoma, Wyoming, and portions of western Missouri and northern New Mexico. Loan momentum has shifted to short term coverage for high input costs. Note that equipment sales have been strong and paid for in cash, partially explaining the recent lending downtrend. The one that concerns me is the increase in borrowing to cover today's high input costs.
KM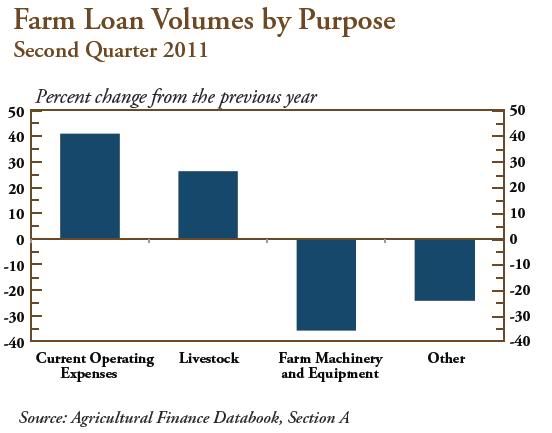 Non-real estate farm loan volumes at commercial banks increased in the second quarter as crop producers and livestock operators paid higher input costs. In the second quarter, non-real estate farm loan volumes exceeded year-ago levels by 14 percent, primarily due to larger loans for operating expenses and feeder livestock. The average size of short-term operating loans jumped 36 percent above year-ago levels due to higher costs for fuel, fertilizer and feed.

Loan volumes for farm machinery and equipment plunged from a first quarter spike and were 36 percent below year-ago levels. Interest rates for farm machinery and equipment also reversed course and moved higher for the first time in a year, averaging 5.3 percent.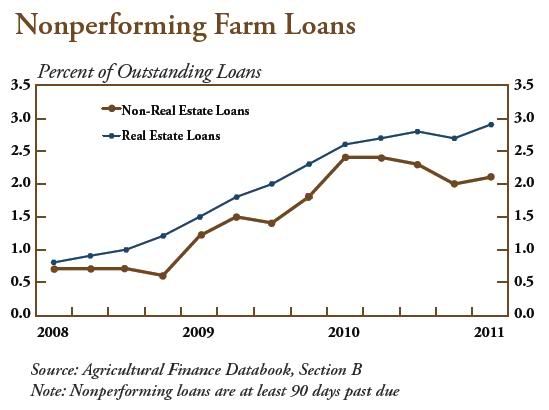 Non-real estate loan performance weakened slightly in the first quarter. After trending down last year, delinquent non-real estate loan volumes edged up and comprised 2.1 percent of outstanding farm production loans in the first quarter. In addition, the volume of non-real estate loans 30 to 89 days past due ticked up, which could nudge delinquency rates higher in the coming months.

Loan performance measures for real estate loans also deteriorated slightly in the first quarter. After dipping at the end of last year, farm loan delinquency rates rose to almost 3 percent during the first quarter of 2011. The share of real estate loans 30 to 89 days past due also rose, setting the stage for rising delinquency rates in the coming months.

source