1-Year Diesel Price Graph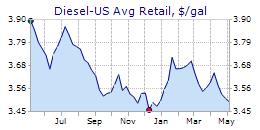 source: thefinancials.com
Today's nationwide average diesel price is $3.95 per gallon.
3-Year Diesel Price Graph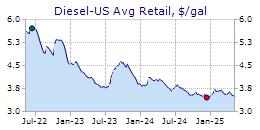 source: thefinancials.com





The record price for diesel was set in July, 2008, at $4.76 per gallon.


Some analysts listed the price of diesel as one of the reasons the IEA announced plans to release oil from the emergency reserves last week.

Earlier this year, I reported that a rice farmer in California farms 2,000 acres and uses 80,000 gallons of diesel per year. His diesel expense is up approximately $80,000 over last year's. In my county here in Colorado, a farmer reports that his overall fuel bill will total $25,000 this season.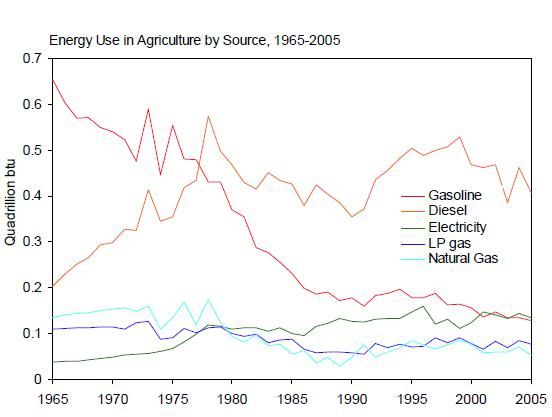 Since 1990 there has been an upward movement in energy use; however, farm energy used today is still well below the peak levels that occurred in the 1970s. Moreover, energy production, energy output per unit of energy input, has increased significantly. source: usda



Most people seem to agree that energy-related prices are headed upwards. At some point the issue will shift from price to availability.

No-till helps, but where do we go from here? Do policy makers have a plan? Do farmers have a plan as fossil fuel related expenses continue to rise? Will governments always pick up rising fuel costs for producers? At minimum, won't marginal lands return to low input crops or animal production? And won't the farmers operating on small profit margins have to find alternative products requiring less fuel? Will farm policy change? What will the biofuels fall-out be? How will rising energy costs impact production in agricultural commodity exporting nations?




~~~




~~~




Comments on fuel use and expenses this year are welcomed from the real world.


KM