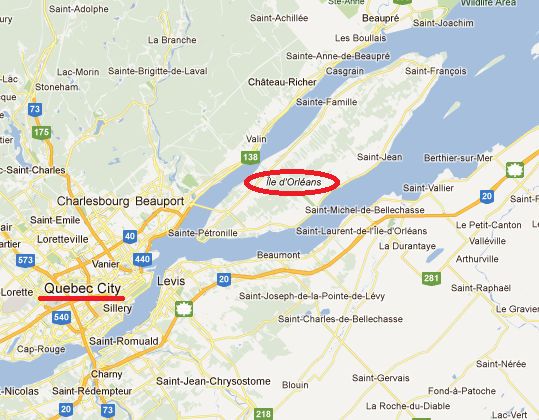 NOTE that this post was inspired by a late summer visit to Quebec, Canada in 2010.
A visit to this 73 square mile, 18-mile long island named Île d'Orléans near Quebec City in the Saint Lawrence River is enough to give anyone small farm fever. Oh, but for a piece of land on this island to grow food and join the camaraderie of small farms here.
Originally inhabited by native American tribes, French explorer Jacques Cartier landed on this island in 1535. He discovered an island filled with wild grapes and abundant hunting and fishing. One hundred fifty years later, it had over 1200 French inhabitants and 917 livestock. Boat building became an early industry. Today, many French Canadians trace their ancestry to Isle de Orleans.
A bridge connecting Île d'Orléans with the mainland was built in 1935, and in 1970 the whole island was designated a National Historic District. Today's island population of 7,000 is dotted with small 300 year old towns.
When I travel, getting to know a place means getting to know the artists who previously lived there and left their legacy. Here, well-known artists were painter Horatio Walker and songwriter Félix Leclerc.
The above 1933 photo shows artist Horatio Walker painting in his Île d'Orléans garden. He spent his summers here and his winters in New York City, where he sold his work.
Below, is his painting,
Ploughing, the First Gleam at Dawn
, which was completed in 1900. An art critic described this painting as evoking
"the apparent balance between mind and body that was commonplace when people lived in harmony with the rules of nature."
Walker and his contemporaries feared that the agrarian lifestyle was being threatened by a dirty and less

desirable

industrial age. Though his own life was filled with tragedy, he painted agrarian scenes in an effort to cling to that which was disappearing from the modern world.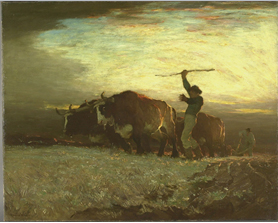 Forever amongst us is that human genre which rebels against the advances of civilization and since the dawn of the industrial revolution, that has included the subject of agriculture. This island served as a hold-out for such idealists. By the late 1800's, those seeking refuge from the undesirable changes to civilization brought about by the use of fossil fuels and mechanization, gravitated here where life remained serene and agrarian.
The Loi sur la Protection du Territoire Agricole [Agricultural Land Preservation Act] reserves 90 percent of this island's land area for agricultural purposes. Had this act not been instated, it is easy to imagine what this isle would look like today, and it would not be small farms. Even so, tourism drives this economy now, and so it is a mix of local farm producers, artists and artisans, and land owners with tourism interests as well as vacation cottages.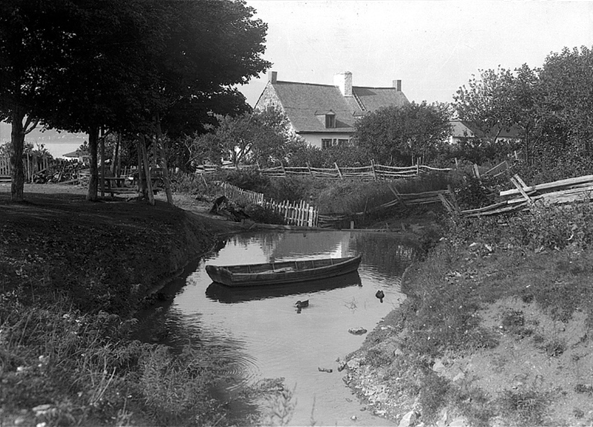 Photo credit: Amerique Francaise
No small part of the visual appeal of this island, next to the charming landscape of rolling hills with water views, are the picturesque cottages, the quaint French villages, the old churches with their cemeteries, and rustic barns which are visible throughout the island. It is home to six parishes and 600 heritage buildings. To visit here from the urban U.S., one feels one has walked back in time, seeing clothes hanging out on clothes lines, small houses and villages, backyard gardens and orchards, and the variety of local food being grown on small farms. The pace is

noticeably

slower.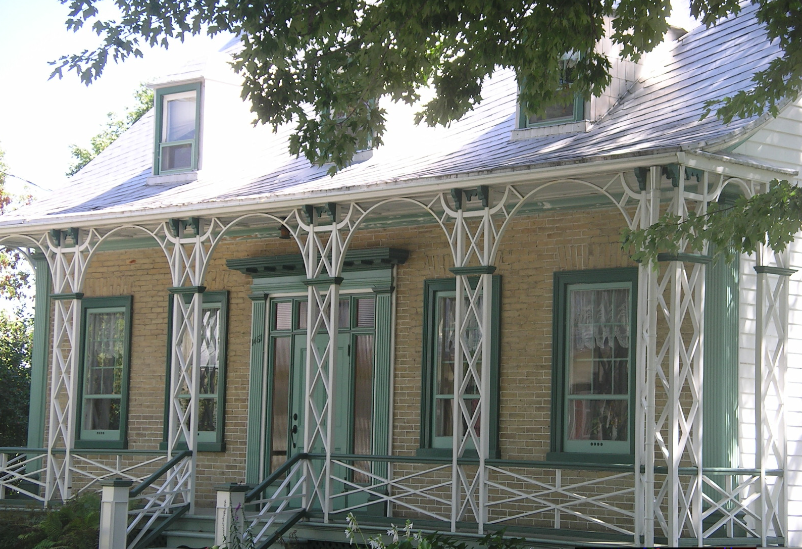 A French house on Isle de Orleans.
In the days of early European settlement of the island, fishermen hauled in eel, salmon, sturgeon, muskellunge, tilefish and walleye. Hunters bagged snow geese, ducks, and Canada geese and abundant passenger pigeons, which disappeared from the island around 1850.
Traditional farming on the island produces fruits, vegetables, cereals, and dairy including cheeses. In addition, today one can find smoked fish, wine, cider, farmed game, blackcurrant aperitifs and ports, maple products, and organic jams, chutneys and jellies made from local orchards. There are a few eat local eateries.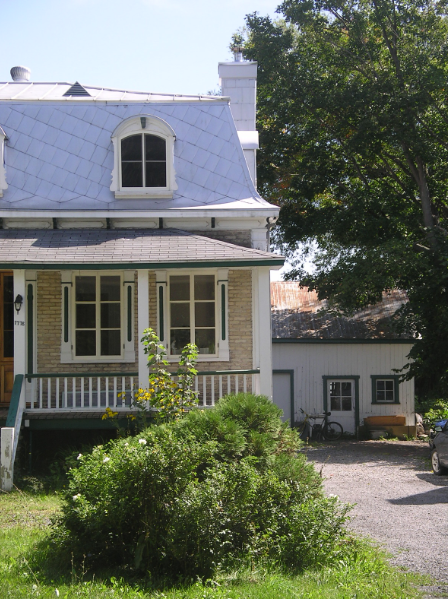 Food growing on the island tends to be regional, determined by the soil and micro-climates. The island has mixed growing conditions and rich soils that are either clay based or sandy mixes. There are wetter and drier areas, higher and lower lands, hills, plateaus, and slopes. The northern end tends to raise berries and carrots, the southern side apples and grapes, and the west side grows leeks and potatoes. The island is located in plant hardiness zone 4 with an annual precipitation of about 48 inches.





Today, tourism helps support local artists and the island farm endeavors which are tugged by less authentic interests of outside ownership and competition from nonlocally produced food. Walking and biking by tourists is encouraged, although designated bike trails are lacking. One senses that the farmers here, too, are faced with that same never ending struggle to make ends meet that small farmers everywhere have always faced.




Next, are some of my photos to show you why the word idyllic comes to mind here.



Vineyards with a nice water view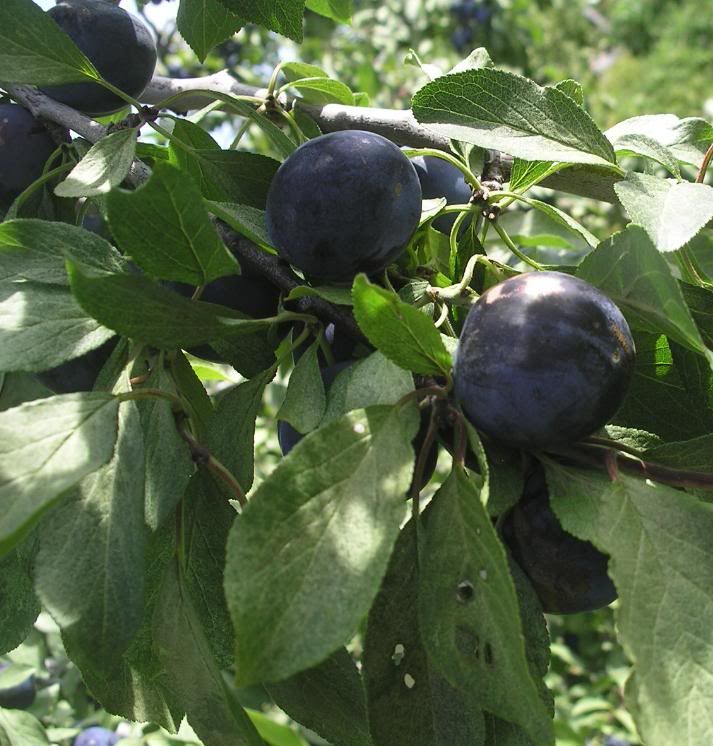 Ripe plums still on the tree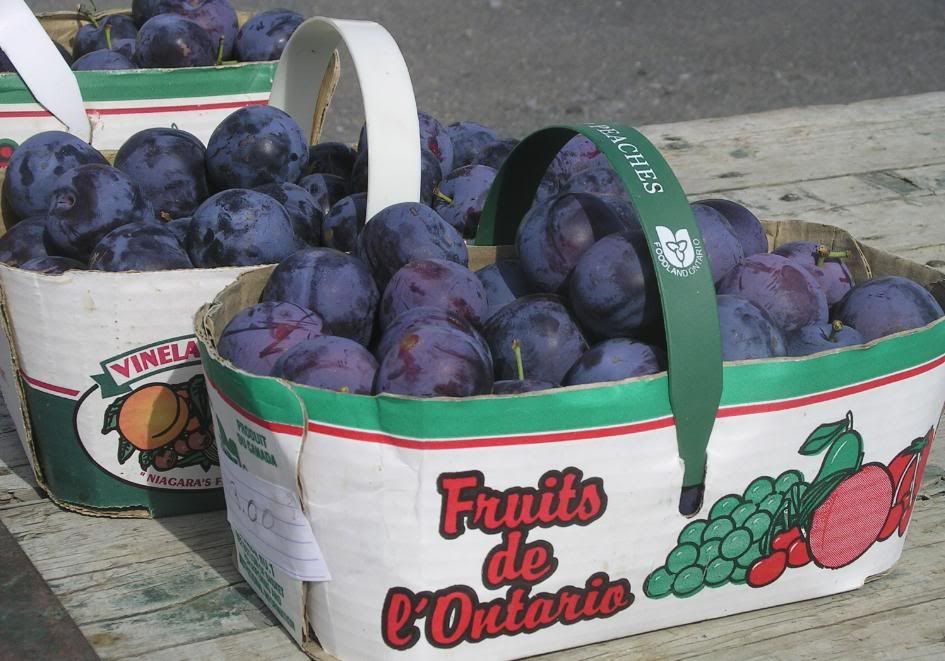 Plums for sale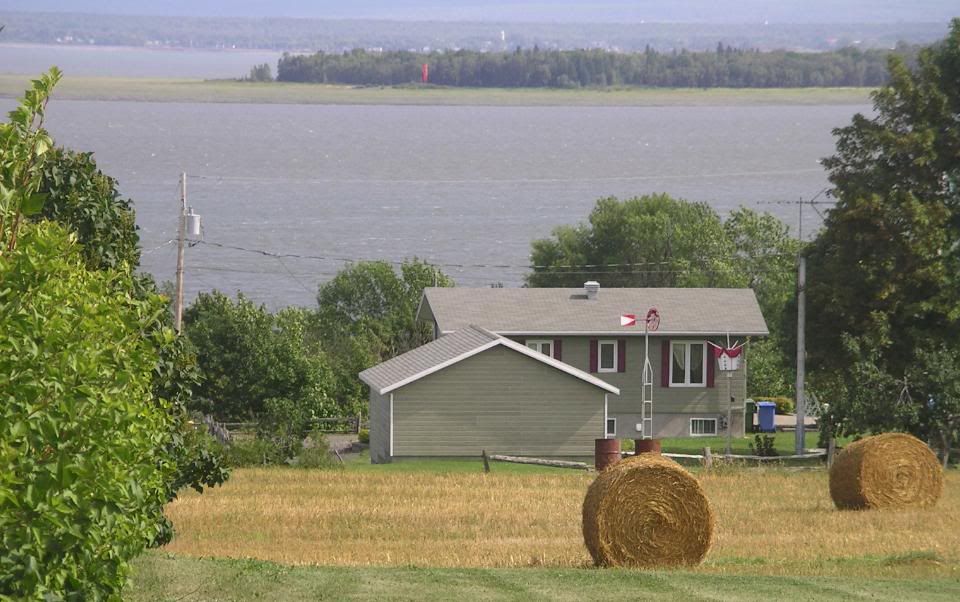 Large round bales of straw in this farm field.
From the island roads, you look down towards the water and see farms.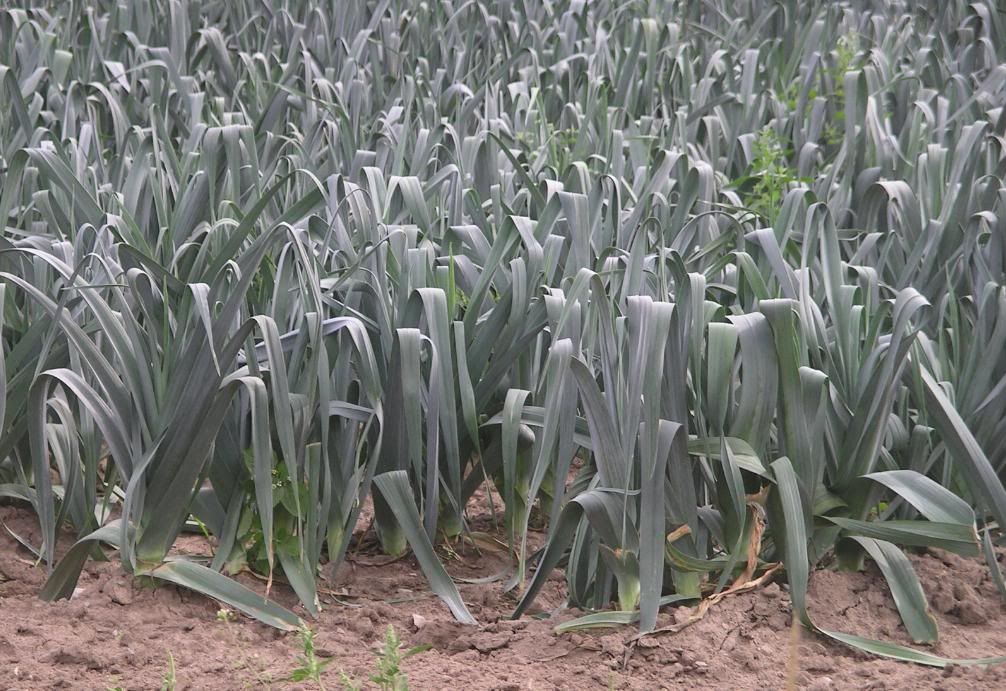 A field of leeks

Nearly ripe apples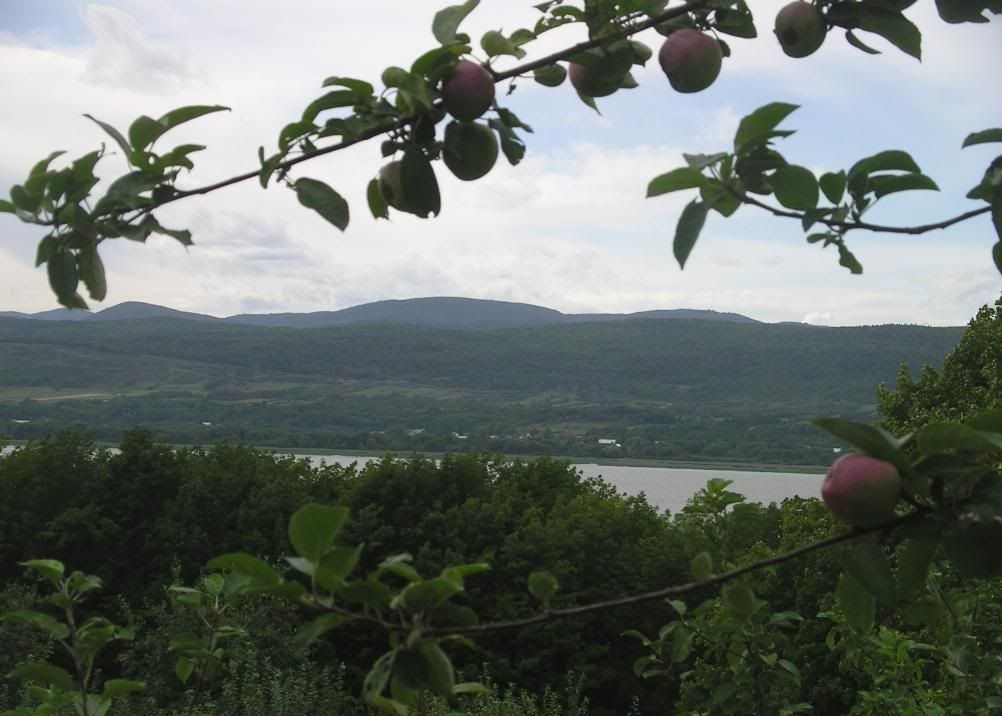 This is the view the apple trees enjoy each day.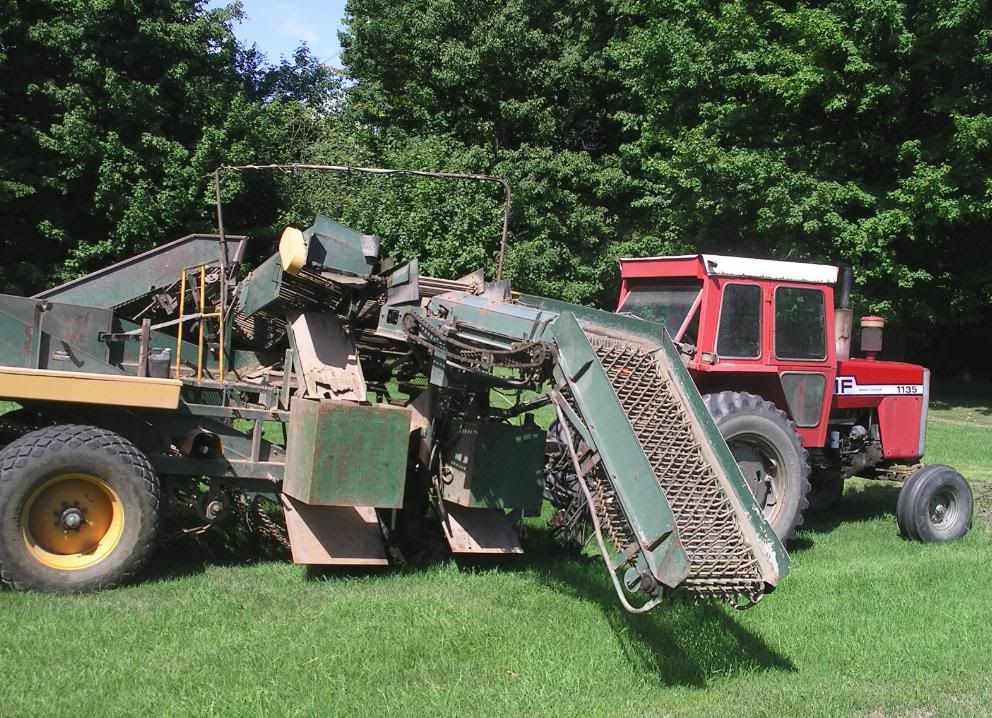 A potato harvester was parked along one roadside. The tractors that I saw on this island were all "small."



The next set of photos show an Isle de Orleans farm produce stand and the fruits and vegetables which were for sale inside.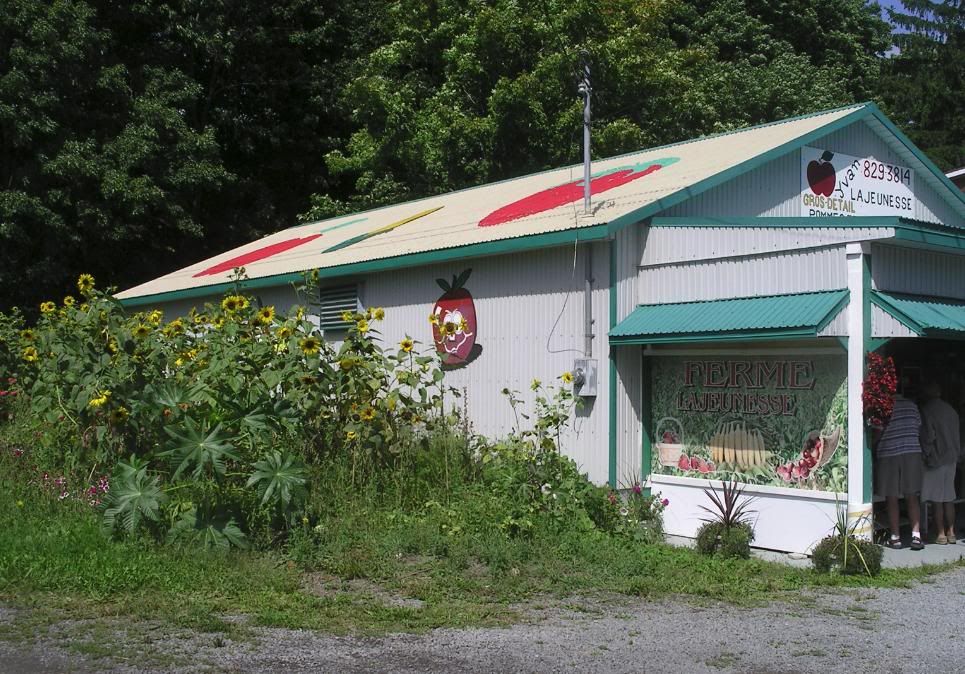 Ferme La Jeunesse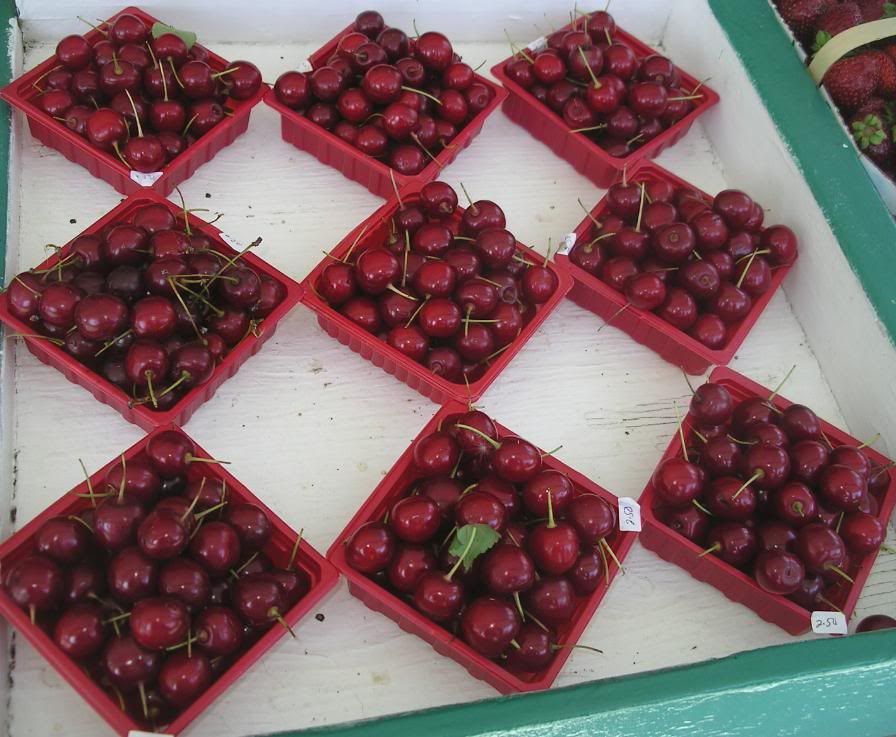 Ripe tart cherries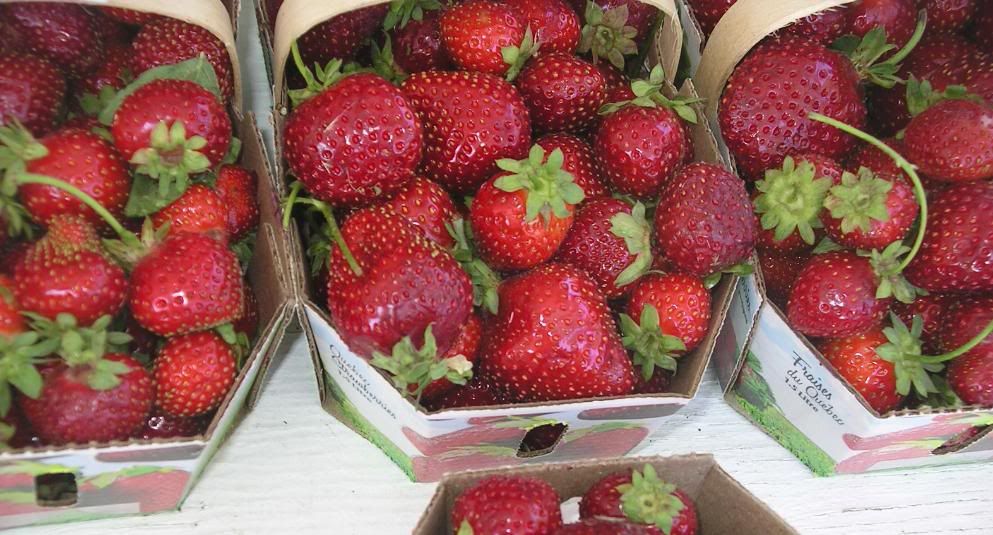 These were the best strawberries I've ever tasted! I suspect they were mara des bois strawberries.

Yellow wax beans

Apples

Crab apples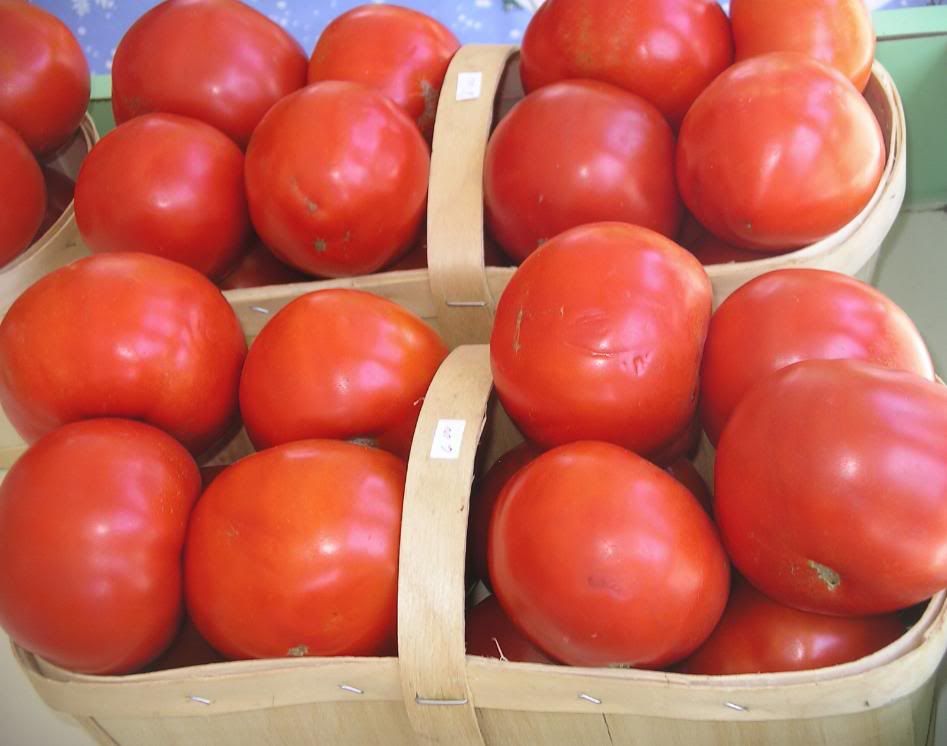 Tomatoes
It is regrettable that more land near urban populations in America was not preserved for farming as it was here on Isle de Orleans. Instead, we have urban

sprawl reliant upon a car culture which

has gobbled up much of our most productive and convenient farmland. When you can stand in one place and see that in one direction is a small potato farm, another an apple orchard, another a carrot field, and another a vineyard, like you can here on this island, something feels very right. So right, in fact, that you wish you could be a part of it or that more of your own world looked like that.