Today, I'm pleased to feature the San Antonio, Texas artist, Lesta Frank. She is a watercolor artist who earned a Bachelor of Fine Arts Degree from Cranbrook Academy of Art, and a Master of Fine Arts degree from Rochester Institute of Technology. She enjoys doing gardening, farming, and vegetable art and has just recently done a series of 12 designs for a new heirloom organic seed company that is starting up, the
Jardin Seed Company
.
This following root vegetables watercolor of Frank's was used by the Jardin Seed Company. (It has been sold, but giclee prints are still available.)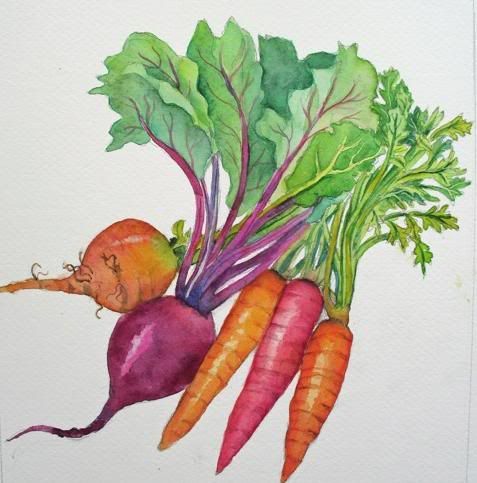 "root vegetables"

Next, is an example of one of her vegetable still life's.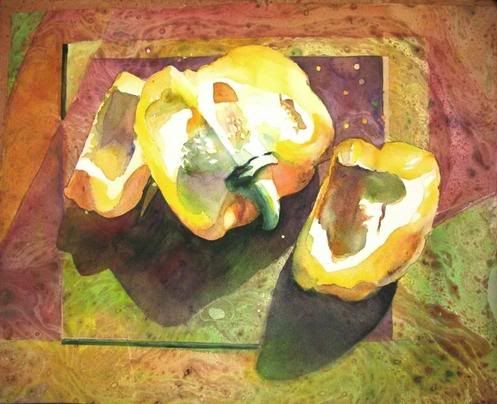 "yellow peppers"


I asked Lesta what attracts her to painting these subjects and this was her reply:
My first reading books in school were about Dick and Jane whose grandparents lived on a farm with all these cuddly animals. I thought that would be the ideal place to grow up instead of the city. I still yearn to be closer to nature! A lovely early gardening experience was when my mom used to take me to pick cucumbers at her friends garden. She took them home and made wonderful dill pickles.

I get my nature fixes from teaching plein aire watercolors at our Botanical Gardens, walking to a street near my house that is a like a tiny park and hugging trees, and having flowers in the front yard and a vegetable garden in the backyard.

I am happy when anything grows there, because I need to get trees trimmed for more sunshine. What have been doing best are herbs, kale, swiss chard, collards, cabbage, malabar spinach, string beans, okra, artichokes cucumbers and two huge fig trees that I planted from small sticks 25 years ago. It is so magical to see things growing and thriving. It is always fun to try new things and to share working in the garden with the children in my life.

Below, see her "farmers market" scene.



"farmers market"


Lesta Frank states that "I do like knowing where my food comes from and love to buy from organic local farmers who bring their produce to farmers markets or else I purchase from Whole Foods and Central Market HEB."

Next, is my personal favorite. I love her backgrounds . . .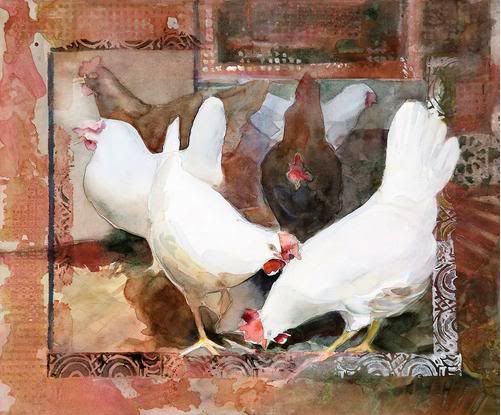 "chicken coop"


She also volunteered to us why she is a "tree-hugger":
My Ayurvedic practitioner said that the remedy for electromagnetic field exposure which bombards us everyday is the same remedy they used 5000 years ago for being struck by lightning -- hug trees, walk by a large body of water, walk barefoot on the beach, be in nature.
For more information about artist Lesta Frank and how to order her art, please visit her website and contact her here.