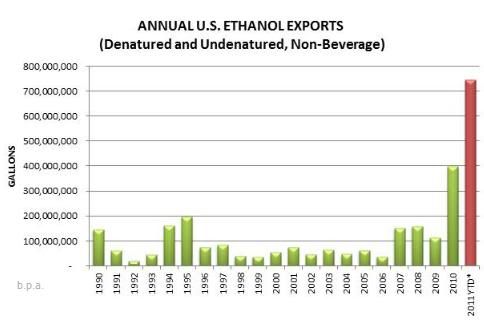 (YTD is through the end of September 2011)
For September . . .
105.8 million gallons (mg) of denatured and undenatured (non-beverage) ethanol were exported in September.
Half of the shipments went to Brazil
September ethanol exports from the U.S. were the third highest on record.
Denatured ethanol exports totaled 74.1 mg for the month, with Brazil receiving 31.1 mg. Canada (28.9 mg) followed closely, while the United Kingdom (5.2 mg), Jamaica (4.0 mg) and the Netherlands (3.2 mg) were other top destinations for denatured product in September.
Total exports of undenatured ethanol were 31.8 mg in September, the highest monthly total of the year. Brazil was the leading destination, taking in 15.8 mg. Finland (4.6 mg), Mexico (4.5 mg), the Netherlands (3.7 mg), and the OPEC nation Nigeria (3.0 mg) rounded out the top five for the month.
For 2011 . . .
Year-to-date exports stood at 746.5 mg at the end of September, almost double the amount exported in the entire 2010 calendar year.
The U.S. remains on pace to export between 900 mg and 1 billion gallons in 2011.
Canada and Brazil accounted for 55 percent of total U.S. export demand during the first nine months of this year.
By my estimates, more than 7% of this year's U.S. ethanol production will be exported.
——K.M.
source: RFA