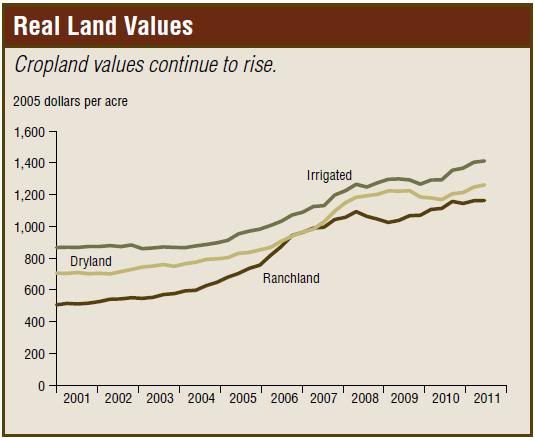 Quarterly Survey of Agricultural Credit Conditions in the Eleventh Federal Reserve Districts
The theme of concerns from bankers in this region was drought. A positive development is higher livestock prices. The other main concern echoed by bankers across the region is higher fuel and input costs. The Eleventh District includes Texas, northern Louisiana and southern New Mexico.


Here are key points from the report:

Bankers responding to the first-quarter survey noted improved farm lending trends in the Eleventh District, although there is much concern about widespread drought conditions. Several reports indicated that dry weather was hurting wheat crops and limiting grazing for cattle.
Respondents in several regions voiced concern over rising input costs, including fuel, fertilizer and feed.
Ranchland values held steady while dry and irrigated cropland values increased slightly from last quarter.
Expectations for farmland values rose, with 22 percent of bankers anticipating an increase over the next three months.
Respondents in select regions continued to report land sales for nonagricultural purposes.



Regional Banker Quotes:
"The cost of fuel and its effect on the economy is our biggest concern."

- Southern Low Plains



"Cattle prices are excellent and milk prices are much better, but there are big concerns about fuel, feed and fertilizer costs."

- Cross Timbers



"Eagle Ford Shale play continues to be a huge influence on our lending area, with a lot of new drilling and leasing. The positive for our region is that cattle prices are up. The negatives for our region are the dry weather, escalating fertilizer and fuel prices and low loan demand."

- Central Texas



"Ranchland is leasing between $3 and $5 per acre for grassland use, whereas ranchland hunting lease prices start at $10 per acre. Edwards Plateau would not have the amount of ranchland available if it weren't for the hunting lease income; many people would have to sell their land. Continued drought conditions have increased operating costs for ranchers in the Edward Plateau area. Feed costs are at all-time highs as well. There is one bright spot out there—livestock prices continue to be strong and demand for all classes is brisk."

- Trans-Pecos and Edwards Plateau



source