North American sales are 60% of Deere's market share and sales in this region fell 7% in April year-on-year, the first fall in ten months. Some think that tractor and combine sales have been nearly fully realized here, but overseas sales continue to be strongest.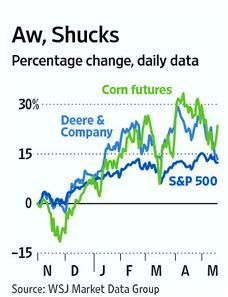 The second quarter Deere report showed that equipment sales rose 17% in the U.S. and Canada, but jumped 45% elsewhere.
After last quarter's Deere earnings surpassed expectations by 20%, this new quarter revealed second-quarter earnings growth of 65% along with upward revisions in future growth forecasts.
Deere's farm machinery sales in the quarter rose 24% from a year ago while operating income increased 22%. The company announced that it will build a seventh farm machinery plant in China, costing $80 million, and producing machinery by late next year. The market was somewhat unresponsive on Wednesday, following the report.
source: wjs and Deere