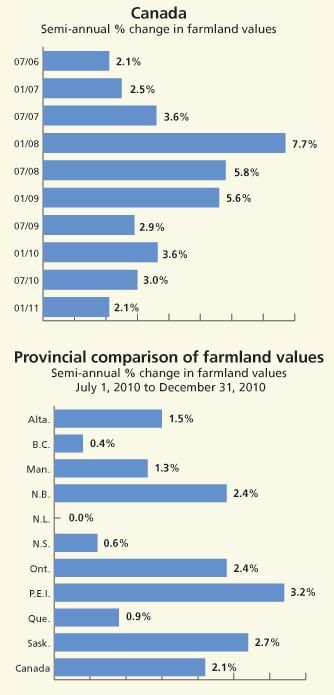 A new report from Farm Credit Canada has been released reporting farmland price increases during the last six months of 2010.

The average value of Canadian farmland increased 2.1 per cent during the last six months of 2010, following increases of 3.0 and 3.6 per cent in the previous two reporting periods. When combined, the increase in the average value of farmland across Canada rose by 5.1 per cent in 2010.

Farmland values remained stable or increased in all provinces. Prince Edward Island experienced the highest average increase at 3.2 per cent, followed by Saskatchewan at 2.7 per cent.

New Brunswick and Ontario each saw 2.4 per cent growth, followed by Alberta at 1.5 per cent and Manitoba at 1.3 per cent.

Quebec (0.9 per cent), Nova Scotia (0.6 per cent) and British Columbia (0.4 per cent) rounded out the list of provinces that experienced a rise in farmland values.

Values were unchanged in Newfoundland and Labrador.

Canadian farmland values have risen steadily during the last decade. The highest average national increase was in 2008 at 7.7 per cent. The last time the average value decreased was in 2000 at -0.6 per cent.

Cash crop producers lead buyer activity. Strong demand with limited supply made farmland a hot commodity due to its historic performance as a stable investment and its current income generating potential.

Low interest rates also encouraged buyers to seize opportunities and influenced farmland values upward. Although it seems that more people are interested in purchasing farmland, the supply is limited. This continues to fuel competition in the farmland market.

For additional information, including specifics on each province, go to the source.