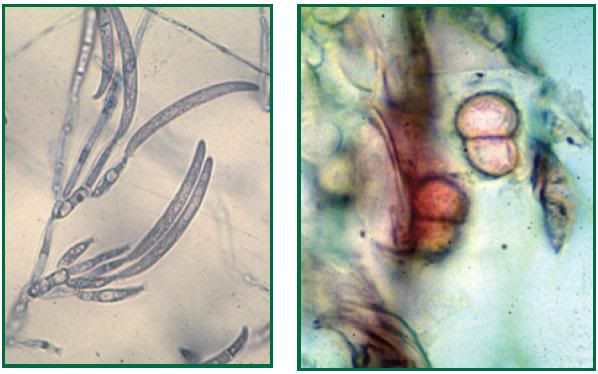 Fusarium solani f.sp. glycine
(source: purdue)
Spores of the SDS-pathogen: Left-Numerous macrospores like these make the blue stain that's visible on the outside of soybean roots with severe SDS. Right-Chlamydospores are long-lasting and can survive in soil and plant debris.
From the
LATimes...
... Farmers call this "sudden death syndrome," a plant disease that has plagued the country's heartland and the nation's estimated $36.8-billion soybean industry. Scientists, who first spotted the disease in Arkansas in 1971 — more than 20 years before Monsanto introduced its Roundup Ready soybeans in the U.S. — blame damp weather and a fungus that rots the plant roots. ...

For soybeans, sudden death syndrome has been a serious issue in the Midwest in the last two years. Part of the problem is climate change, said Xiao Bing Yang, a leading expert on the disease at Iowa State University. Soil that is too moist, coming after too cool of a spring, can be a breeding ground for the fungus

Fusarium solani f.sp. glycine

. It's the fungus that causes sudden death syndrome, scientists say.

The effect on soybeans can be dire. At best, a farmer could lose 10% of his crop. At worst, 90% could be wiped out. Once the fungus is in a field, it can remain for years and cause havoc when the environmental conditions are right. Last year, after a chilly spring and a very wet summer, soybean sudden death syndrome raced across the Midwest. The hardest hit was Iowa: Yang estimated last summer that up to half of the state's fields might be infected in varying degrees. The USDA warned in August that "the amount of acreage is becoming a concern." ...
The LATimes article is primarily about the publicity surrounding 76-year-old retired Purdue professor Don M. Huber, alleging a link between GMO's, herbicides, plant diseases and infertility in livestock. This story broke many months ago, and I did not cover it here since it didn't appear to be backed up by sound science. The soybean sudden death story, however, is real, is concerning, and seems to be spreading. The condition is exacerbated by cool moist ground.


K. McDonald



Additional sources: Iowa State & University of Minnesota