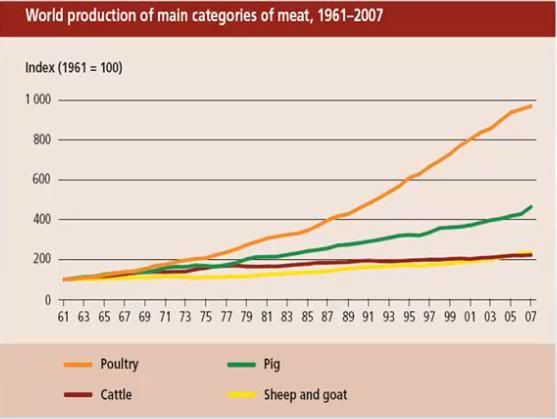 Graph Showing World Production of Main Categories of Meat 1961-2007
Friend Dr. Nevil Speer, W. Kentucky University, alerted me to some key talks from the 2011 Annual Conference of the National Institute for Animal Agriculture, held earlier this month in San Antonio, Texas, which he moderated. Today, I've chosen to feature the presentation by Dr. Frank Mitloehner, Associate Professor and Air Quality Extension Specialist, University of California-Davis titled "The Overarching Demand
for Food and Implications for Resource Use and Ecosystems." This half-hour talk truly is worth your time if you are interested in how livestock regions and methods influence their emissions which contribute to climate change. It contains many great slides (including the two used in this post) and also covers the changing diets of the world's growing population.





Graph Showing Trends in Land Used for Meat Production 1961-2001


Whereas scientists understand that intensification is key to mitigation, the public does not (excluding all other ethical issues). What Mitloehner says correlates well with yesterday's post interviewing Dr. Charles Rice.