Change in Population by County in Percent from 2000-2010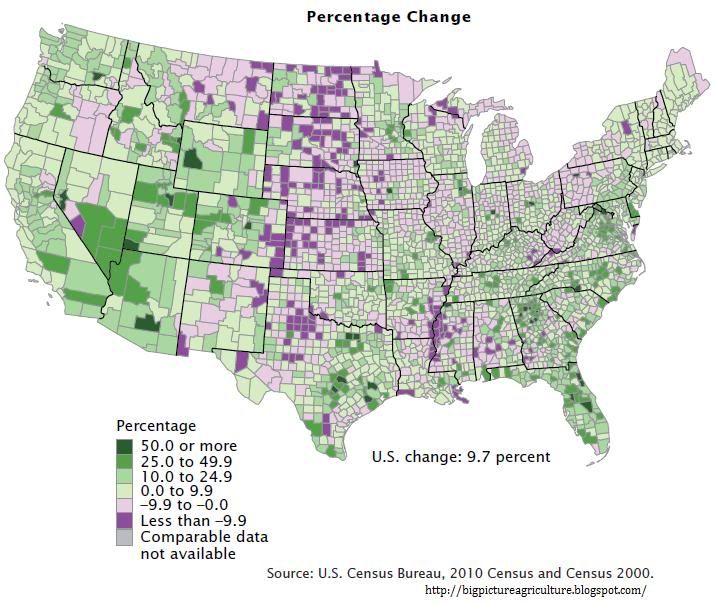 The WSJ
reports
that about 46 percent of rural counties nationwide lost population between 2000 and 2010, including almost 60 percent of rural counties that aren't adjacent to a metro area. Those statistics are based on
an analysis of Census data by Kenneth Johnson, a senior demographer at the Carsey Institute at the University of New Hampshire.

Quote from the 2010 Census Report:


The counties that lost population were mostly regionally clustered and mirrored decades of population loss for those areas; for example, many Appalachian counties in eastern Kentucky and West Virginia; many Great Plains counties in the Dakotas, Kansas, Nebraska, and Texas; and a group of counties in and around the Mississippi Delta saw population declines.

Below, you can see that this nation is growing very rapidly (via immigration) and the hollowing out of the middle is counter to what is happening most other places.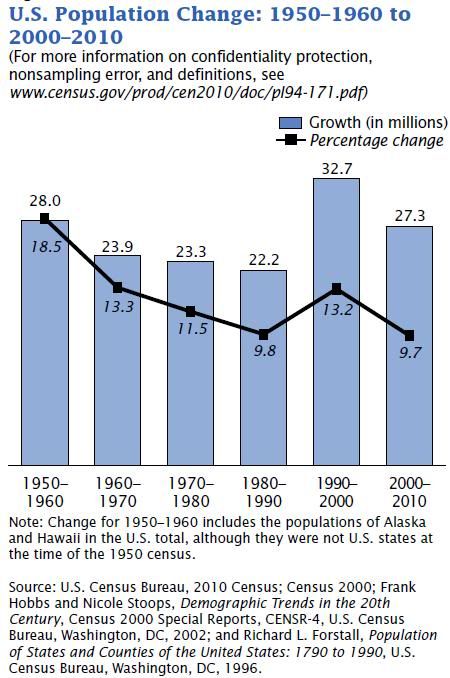 Next, is an interactive graphic from the census bureau. Please move your cursor around the map and site to find a multitude of data. Click "full screen" if you wish.



Industrial agriculture has suicidal effects, when viewed in the light of demographics. This is a global trend, however, as younger people are migrating to the cities throughout the world for jobs and cultural opportunities.


K. McDonald





source: census.gov